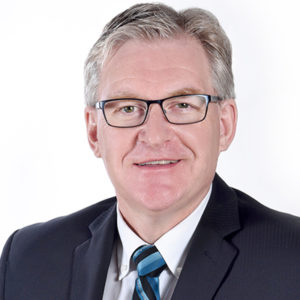 Keith Willoughby
Professor of Finance & Management Science
Edwards School of Business
https://www.edwards.usask.ca/faculty/
Born and raised in Melfort, SK, Dr. Keith Willoughby is the Dean of the Edwards School of Business and a Professor in the Department of Finance & Management Science.
He teaches courses in supply chain management, quantitative methods and business analytics.  His research interests include health care process improvement, project logistics, public transportation systems and sports analytics.
Despite suffering the elementary school horror of striking out playing T-ball, he eventually regained his athletic composure by obtaining a hole-in-one in golf.  He hopes to live long enough to see the Toronto Maple Leafs win a Stanley Cup.
Sessions
The Year the World Ran Out of Everything: Wherefore Art Thou, Supply Chain Management?

Supply chains are used for the production, distribution and delivery of items. Supply chain management seeks opportunities to improve the value creation of activities required to transport products, store inventory and satisfy customer demand. Within the nutrition field, efficient supply chains enable food products to be available and accessible. The COVID pandemic has certainly demonstrated […]