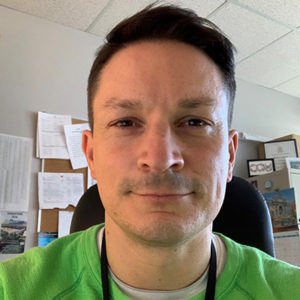 Michael Newell
Public Health Inspector
Saskatoon Public Health
Born and raised in Nova Scotia, in 1999 Michael Newell moved to Vancouver to attend BCIT to study in the Environmental Public Health program. Having lived on both coasts, Michael promptly moved to Saskatoon, SK in Sept 2001 to start his career as a Public Health Inspector.
Over the past 20 years, Michael has worked as a rural and an urban PHI; then a Senior PHI, and 18 months ago became the Manager of the Saskatoon Public Health Inspection team. Oh yeah, Michael's also a happy husband and dad to 2 teenage brats (he means darlings).
Sessions
Public Health Inspectors – Your local accountability ally, not your enemy!

Does the thought of a visit by your local Public Health Inspector (PHI) fill you and your kitchen staff with anxiety and dread? Fear not! PHIs are not the no-nonsense, kick-you-while-you're-down hygiene bullies often featured in TV shows and movies. Think of us as your local accountability ally, not your enemy!